Movie features Rim Country locations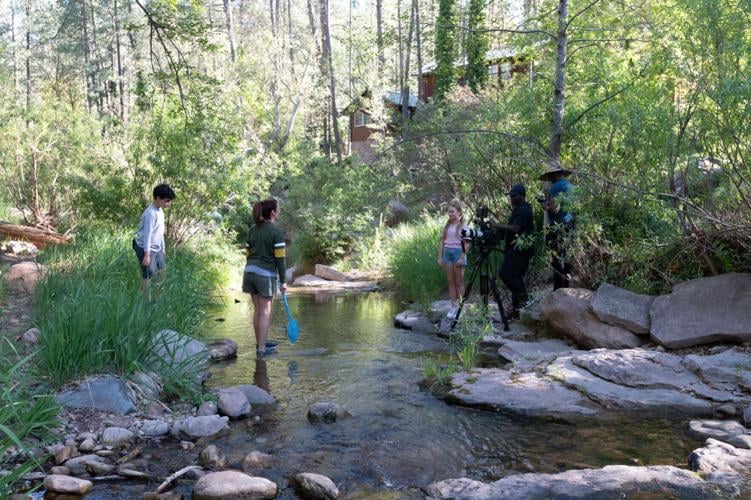 The movie, "All The Dragons," going to the American Film Market in October for foreign sales, was filmed in Rim Country.
A childhood friend of the producer, Chris Dalton — and co-star in the movie, Dr. Brad Briggs — owns a cabin in Colcord Mountain Estates. "We asked, and he agreed to let us film in and around the cabin over May and June 2021 weekends. The cabin and its premises were so incredible, full of history, nature, and beauty that it ended up becoming a character in itself," Dalton said.
He originally he wanted to use a cabin on Tonto Creek where he had vacationed as a child. That didn't work out, but Briggs stepped up.
The theme of "All The Dragons" is that it's never too late to live your dreams, he explained.
May Connor is the central character – her life has hit a wall. When her son is bullied at school and her husband's career stalls, May retreats to her childhood home and is forced to confront her traumatic past so she can find the freedom to live out her dreams.
What she finds waiting for her are long-buried dreams and unresolved issues. She discovers a friend from the past who hasn't been able to shake the shared trauma. She learns her father is a stronger, more compassionate man than she remembered. And she reconnects with her son while uncovering long-discarded joys.
Through pain and a bit of humor, she faces her past, embraces her gifts, and sets out to mend the broken areas of life… so she and her family can live whole lives.
The film is live action, and stars Carissa Dalton, Brian Stewart, Nicholas Dalton, Dr. Brad Briggs, and Cristian Lascau.
"All The Dragons" is an original story from our life experiences, Dalton said.
"We lived and worked in Hollywood for eight years. Before that, we worked for over a decade to establish creative careers in Arizona. But the jobs were few and far between, and time wouldn't wait for us. We often wondered if it was too late for us to live our dreams of being an actor, writers, filmmakers, and creators.
"Through some divine connections, we learned two things: it's never too late, and we don't need the permission of Hollywood or any other creative industry to produce our stories."
Dalton said they faced their fears, dove headlong into this story, and doors opened at the right moment for funding, crew, cast, and more to come on board and make their dream a reality.
The script was in development for over four years. Pre-production, however, was compressed into a matter of eight weeks. The producers partnered with a church in Phoenix and Payson, Church for the Nations, which gave the go-ahead in March of 2021. "We began prepping the film and shooting in late April of 2021," Dalton said.
The film was in post-production for a little over a year. "We handed the footage off to our LA-based editor and visual FX team in August 2021 and had the film's final cut in hand in September 2022.
"We premiered the film in Scottsdale at the Landmark Theater for three days in September 2022. All four showings sold out. We then screened it in the north Phoenix coffee shop Elevate over four weekends during October and November that year. And finally, we did a premiere in Payson at the Church For The Nations campus just after Thanksgiving in November of 2022," Dalton said.
This was the first film for Dalton's production company, Huck & Dorothy. His wife, Carissa, has been in many indie films, as well as TV episodes and commercials, while Dalton has written over a dozen screenplays professionally. But they had not made a feature together until All The Dragons.
"Our hope is for as many people as possible to see the movie. We want moms and dads, grandparents, college-aged people, and those working jobs they hate to know they can pursue their dreams. We want the film to inspire others to go out and do things they've always wanted to do. We want our story about making the film to inspire other creatives to stop waiting for permission and start creating. They will be astounded at how doors open right and left when the time is right."
Taking the film to the American Film Market in October for foreign sales, Dalton said they hope to see it find more platforms worldwide, expanding the potential audience globally.
All The Dragons is currently in distribution by Indie Rights. It is also on Amazon, TubiTV, Google Play store, and YouTube.
"We'd love to thank the town of Payson and let them know their city is going to be seen by a lot of people," Dalton said.